BAG CLEANING & RESTORATION SERVICES IN KUALA LUMPUR MALAYSIA
'THE COOLEST
ACCESSORY
A GIRL CAN HAVE
IS CONFIDENCE'
Michael Kors
At Big Mama Malaysia, we believe that having clean, well-kept bags that go with your outfit will give you confidence because they are more than just an accessory — they are an extension of your unique style.
We're experts in cleaning and restoring luxury bags, including popular styles like the Louis Vuitton Neverfull, Gucci Marmont, and Chanel Classic Flap, because we recognise the value of keeping a handbag in good condition. Your beloved handbags will be restored to their former glory by our Big Mama team of specialists using only the best methods and materials.
Benefits of Bag Cleaning Services
A clean bag is more than just an accessory; it's an extension of your style and personality. With Big Mama, ensuring your luxury bags are spotless and pristine is not just a task but a passion. Our skilled team understands the importance of maintaining the integrity of every bag, whether it's a traditional Malaysian design or a contemporary piece from a high-end designer boutique. 
Just as we would delicately care for an outfit to ensure it continues to fit you perfectly, we treat every bag with the same meticulous care. Whether you're preparing for a grand event or simply want your daily bag to shine, our experts are here to ensure it looks its best. By integrating modern techniques with a deep commitment to top-quality care, we ensure that every bag can continue to serve as the perfect addition to your outfit.
Ready to transform your bag's appearance from "meh" to "wow"? Trust us with your prized possessions. At Big Mama, we guarantee precision, care, and a touch of Malaysian flair in bag cleaning and restoration, ensuring you carry your bag with pride and confidence.
VISIT US AND EXPERIENCE THE BIG MAMA MAGIC!
Deep

cleaning

of the entire interior, exterior, pockets, tassels, lining, handles, and all parts of the

bag

. 

Use of

specialised

formula to remove mould and mildew (if present). 

Professional

drying

for even and consistent results using

specialised

methods

.

Sanitising and deodorising of your

luxury

item to remove/reduce musty or funky

odours

. 

Conditioning and

moisturising

of your leather

bags

to keep it supple and prevent peeling. 

Gentle polishing of metal hardware and chains/buckles for maximum shine.
Customer Safe and Non Toxic
We use carefully curated cleansing agents that don't contain any harsh chemicals and are made up of 80% natural ingredients. Our formulas are also colour-safe on all types of leather, fabric or synthetic materials to give you peace of mind.
No harsh chemicals or abrasives used

.

Guaranteed colour-safe

on all materials

.

Penetrating formula

that

removes mould deep in the material

.

Improves and removes musty

odours

.

Kills 99% of all harmful bacteria

.

Effectively cleans and conditions leathers

.

Made of 80% natural ingredients

.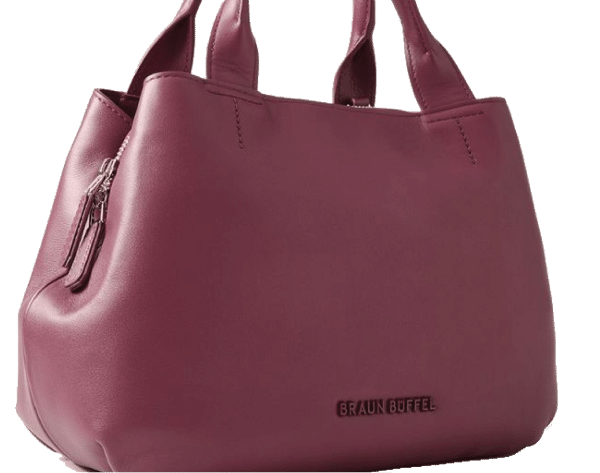 Our trained bag cleaning service specialists are the best at what they do – taking awesome care of your bags and items every step of the way. Here's how we do it:
2. Selecting the right tools
3. Gentle and effective cleaning agents
THE 10 STEPS TO COLOUR PRO REVITALIZE
The carefully curated cleaning agents we use for our bag cleaning service don't contain any harsh chemicals and are made up of 80% natural ingredients. This formula is colour-safe on all types of leather, fabric or synthetic bag materials so you don't have to worry about damage.
The leather item is precisely and thoroughly vetted against a checklist to ensure it is colour-fast, and that not even the smallest detail is overlooked.
An expert consultant checks your bag, wallet or shoes condition and prescribes a tailored colour treatment.
A leather serum is applied to help prep it to better absorb the following colour treatment.
A leather serum is applied to help prep it to better absorb the following colour treatment.
Your luxury item is given a meticulous buffing of the leather and expert polishing of the metal hardware for maximum radiance and shine.
A special formula is added to boost the durability of the colour and up the shine of the leather. Prevents colour from fading and helps the colour layers to adhere better.
A foundation penetrating layer is applied as the base coat to ensure an intensity of colour.
Specially curated leather dyes are applied expertly, layer-upon-layer to achieve the best consistency, colour intensity and exact shade desired.
The leather item is carefully and professionally dried in between layers to ensure each layer is well absorbed.
A balm is applied to condition and moisturise the leather.
Discover what our satisfied customers in Malaysia say about our bag cleaning and restoration services. Dive into genuine feedback and firsthand experiences shared by our clientele.
Witness the transformative power of our bag cleaning and restoration services. Browse through our gallery of before and after images to see the remarkable difference we bring to each luxury item.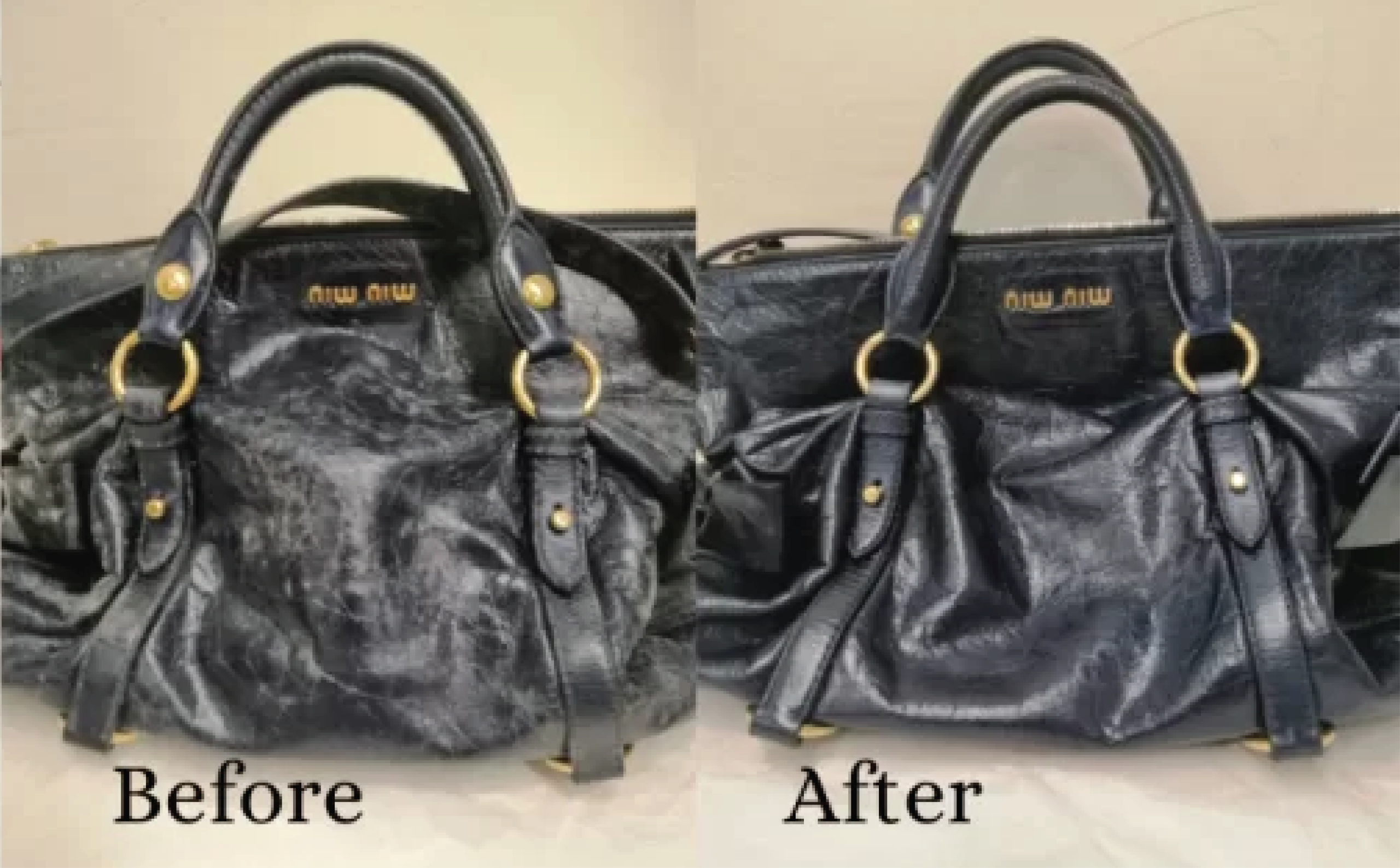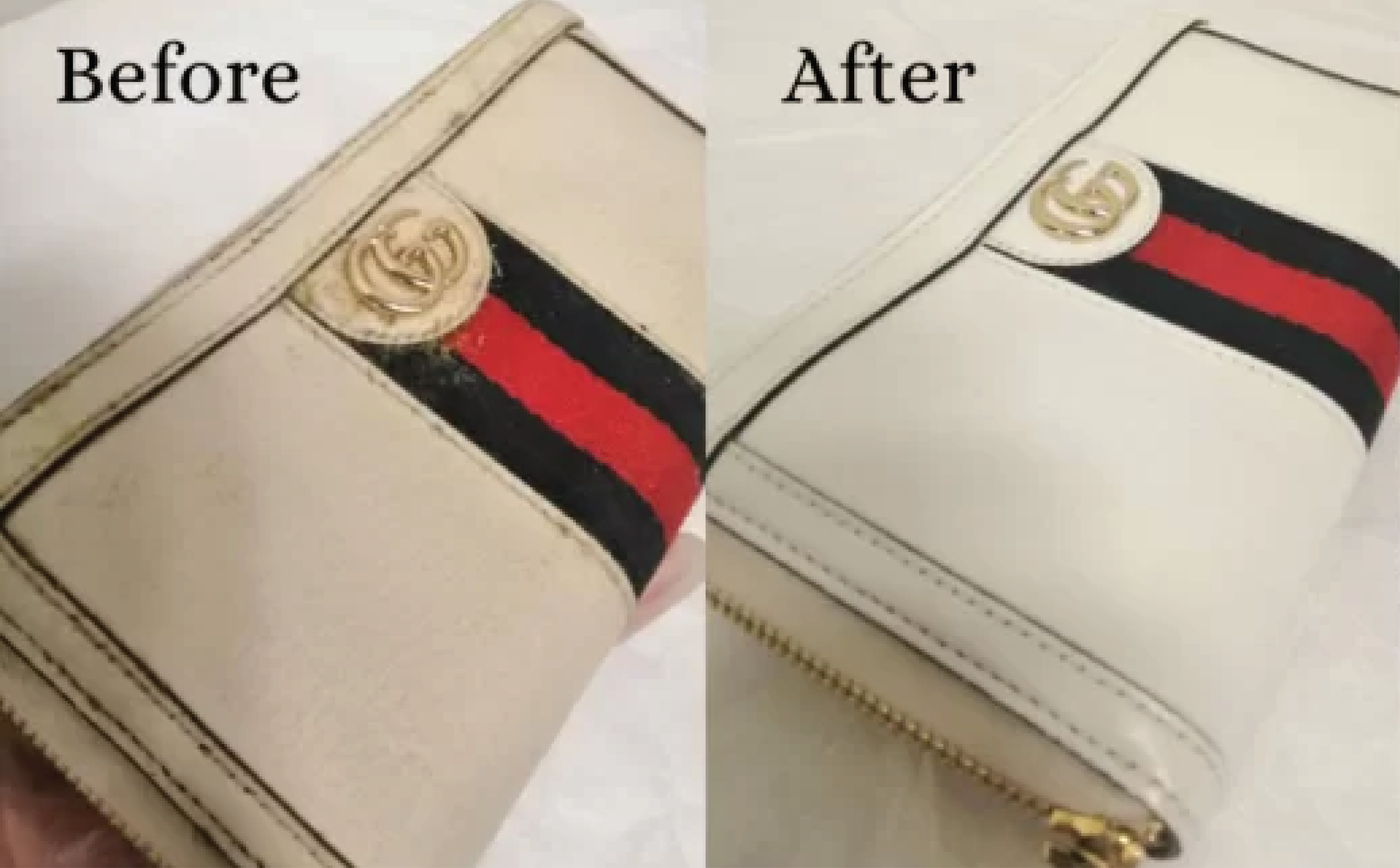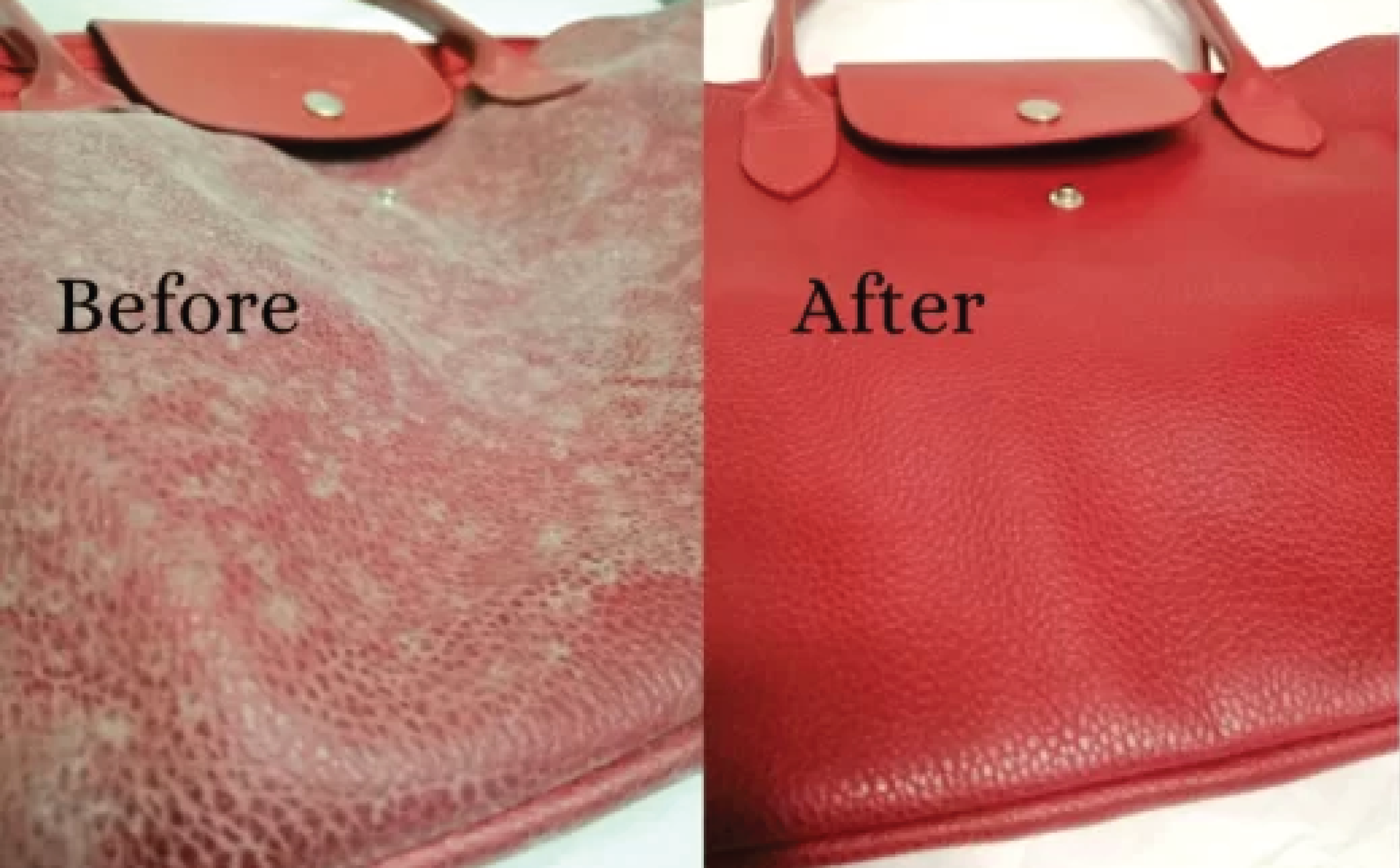 Explore our competitive bag cleaning and restoration pricing structure tailored to meet the needs of every luxury bag owner. Whether you have a single item or a collection, find a package that suits your budget.
Bag Size
Cleaning
Recolour
25 CM

RM

220

RM

780
30 CM

RM

225

RM

900
35 CM

RM

280

RM

1020
40 CM

RM

310

RM

1140
45 CM

RM

340

RM

1260
50 CM & ABOVE (5CM ADD ON RM30)

RM

370++

RM

1380
LUGGAGE

RM

380

RM

430

RM

480

RM

1200

RM

1500

RM

1800
Frequently Asked Questions About Bag Cleaning Services
At Big Mama, we believe in providing holistic home cleaning solutions to meet all your needs. Besides our curtain dry and steam cleaning services, we offer a wide range of additional cleaning services that can transform your home into a spotless and refreshing environment. Some of these services include 
carpet cleaning
, 
sofa cleaning
, 
mattress cleaning
, and much more.
Laundry & Dry Cleaning
Experience top-quality
laundry and Dry-Cleaning services
at Big Mama. Our skilled team employs the best equipment and techniques to ensure gentle care for your fabrics and clothes. Whether it's delicate traditional wear or bulk washes, we are experienced at handling a wide range of fabrics and garments with utmost care. Our meticulous process guarantees that your items are thoroughly cleaned and protected from potential damage during dry cleaning.
Alteration
Discover our
Alteration services
at Big Mama, designed to provide you with the perfect fit. Whether it's hemming a pair of pants, adding a button, or adjusting the waistline, our skilled tailors will ensure your clothing fits you flawlessly. With meticulous attention to detail, we handle alterations with precision, ensuring your garments look and feel just right. From minor tweaks to major alterations, we've got your back.
Curtain Cleaning
Elevate your home decor with our
Curtain Cleaning service
at Big Mama. Living in the vibrant cities of Kuala Lumpur and Selangor, it's common for curtains to accumulate dust and lose their lustre. But worry not; our Professional Curtain Dry Cleaning service is here to rejuvenate them. We cater to various curtain types, including day and night curtains, blackout, drapery, and organza curtains. In addition, our meticulous cleaning process ensures your curtains regain their vibrancy, enhancing the ambience of your living space.
Bag Cleaning
At Big Mama, we understand the importance of clean, well-kept bags that complement your outfit and boost your confidence. As such, our expertise extends to
Luxury Bag Dry Cleaning
, including iconic styles like the Gucci Marmont and Chanel Classic Flap. Our team of specialists also uses the finest methods and materials to restore your bags to their former glory. In addition, our formulations contain 80% natural ingredients and are free from harsh chemicals or abrasives.
Shoe/Sneakers Cleaning
Say goodbye to the hassle of cleaning your shoes at home! At Big Mama, we understand that cleaning shoes isn't just about time; it's about using the right techniques and equipment. Our experts are here to save you time and ensure your favourite pair lasts longer. Moreover, we don't stop at a single wash. All cleaned shoes undergo rigorous quality checks, and any missed spots get a second wash. Only when they meet our high-quality standards do we wrap and deliver them to you.
Upholstery Cleaning
Experience a transformation in your upholstery with Big Mama's top-tier cleaning services in Kuala Lumpur and Selangor. Our expert team specialises in both residential and commercial cleaning, ensuring your sofa and mattress look and feel fresh. They leverage cleaning processes that tackle germs, stains, and dirt head-on. We also use fabric disinfectant to eliminate viruses, bacteria, and germs, while our shampoo and soft tip scrubbing dissolve stains and leave your furniture smelling fresh.
Carpet Cleaning
Maintaining the cleanliness and hygiene of your carpets is vital for a healthy living or working environment. With various carpet types, including hand-tufted, Wilton, and nylon, our 
Carpet Cleaning service
ensures your carpets remain in their best condition.
Stroller/Car Seat Cleaning
Ensure your child's safety and comfort with our Stroller and Car Seat Cleaning service. Big Mama's expert cleaning and sanitisation will provide a safe and cosy ride for your little one on every journey.